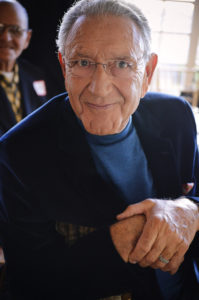 Joseph (Joe Sr.) P. Cory, Chairman of Cory First Choice Home Delivery – husband, father, grandfather, friend, mentor, business leader and philanthropist, left us on April 28, 2015, a youthful 76 years old. He presided as CEO of Cory First Choice Home Delivery from 1977 to 2013 when the transition to the third generation of the family began overseeing the company.
For over five decades, Joe's vision of a company built on relationships founded in dignity and respect propelled the company forward. The close bonds he formed with his Cory team members and long-term clients transcended the business and created a family that stretched beyond the boundaries of traditional kinship. Joe would often say, "We are in a people business, not a trucking business."
Joe's compassion, determination and relentless pursuit of perfection pushed him to the pinnacles of success in so many areas of life. It is that spirit of excellence that sets the foundation for a charitable organization to continue his legacy.
As the son of an immigrant from Calabria, Italy who founded Cory 1st Choice Home Delivery, Joe acquired a strong work ethic, a positive attitude and the importance of integrity from birth. Doing things the "Cory Way" became important life lessons for sons Joe Jr. and Jim, who joined their father in the family business in the late 1950's, delivering furniture by day and offloading boxcars at night, learning the business from the ground up.
Those who knew "Our Captain" Joseph P Cory knew a man with a passion for life in the fast lane, a life fully lived. He was driven by his need to excel in all his pursuits whether racing, boating, fishing, parenting, or leading his corporate team and his clients. He was a devoted companion to his wife Nada, a counselor, both business and personal, to countless people through the years, and a lover of travel, good food, good wine, and good people with pure hearts. When he took his measure of a person, he determined to share his time, talents, strengths and resources to support them in becoming the best version of themselves in all ways. This is how and why the legacy of a great man lives on beyond his time on earth.
His Foundation will dedicate its work to providing knowledge and support toward the self-development, health and wellness of Cory employees, friends and beyond. As large a being as Captain Joseph Cory was is how expansive our mission will be. He honored us and we will honor him by guiding others to a rich, healthy and happy life fully-lived. He continues to touch all of us in mission and spirit.