JOPCO Consortium of Holistic and Integrative Practitioners 
Jointly Organized Professionals Collaborating Optimally
A note from Founder and President Nada Cory...

Conscious Living through Education and Support
 Jointly Organized Professionals Collaborating Optimally! That is exactly what enfolded on a beautiful afternoon, Saturday, October 20th. The Joseph P Cory Foundation's JOPCO Consortium of Health and Wellbeing Speakers Bureau presented a live streamed Facebook event in support of Breast Health Awareness month.  Collectively, the multi-disciplined group of experts offered professional advice on therapies, products, and protocols, to educate viewers in establishing new lifestyle habits for optimum health. Questions that were preciously sent in from the community and beyond, were posed to each speaker by founder and president Nada Cory, who as moderator, presented them to each spokesperson.
JOPCO is the newest addition to the Joseph P Cory Foundation's programs and resources. The group consists of heart-centered affiliates and ambassadors who embody the organization's mission and serve our community, as they exercise their collective knowledge.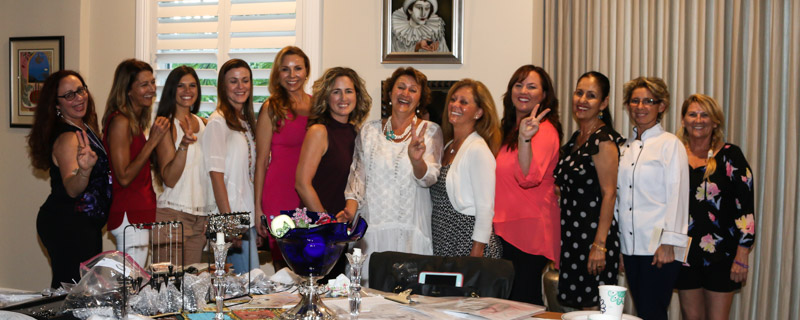 For anyone who missed this engaging and impactful event, you can view it on the Cory Foundation's website in their online video library page. Be sure to find them on Facebook, like and share, so you can continue to be guided in acquiring and maintaining optimal wellbeing! To view all the expert videos from our panel, visit our Wellness Video Library
For more information or to become a JOPCO member: 561-501-3538, info@josephpcoryfoundation.org or josephpcoryfoundation.org.
NEXT JOPCO EVENT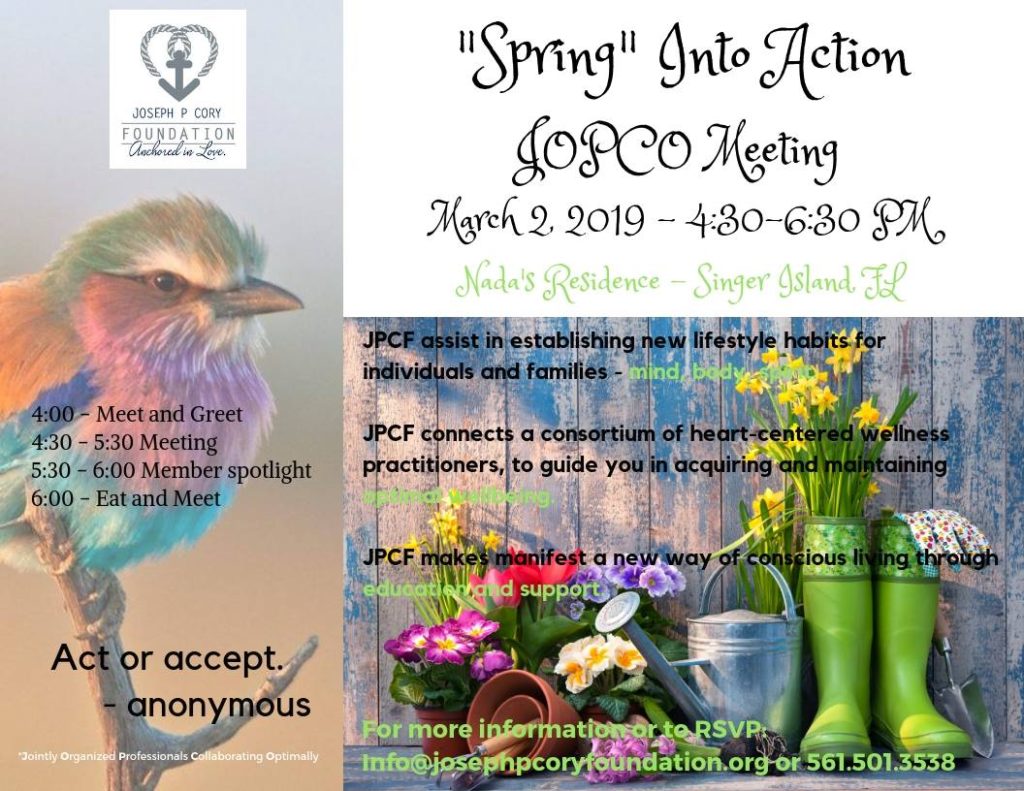 The Gift of Health
On a perfect December 8th evening, the founding members of the JOPCO Consortium of Health and Wellbeing, gathered for their first annual "Gift of Health" event, held at the home of founder and president Nada Cory. Affiliates presented a live Facebook discussion showcasing their wide range of services and protocols, and shared what "the gift of health" truly meant to them. Hundreds of viewers tuned in for a remarkable education, while being reminded of the fabulous "Gift Basket" assembled by members worth over $2,000 in products and treatments! The winner will be drawn at the next JOPCO meeting in January, and there is still time to enter by sending an email to: info@josephpcoryfoundation.org – simply put "enter to win" in the subject! "The gentle voice of Bassanova", Marcos Nobrega entertained attendees, while they were treated to a gourmet meal created and cooked by Chef Alex of Vegan Wagon. The Joseph P Cory foundation is a nonprofit organization empowering people and communities to achieve wellness and wellbeing through expertise, education and guidance. For more information please visit our website at josephpcoryfoundation.org, follow our social media, or call 561.501.3538.
JOPCO GIFT BASKET  OF HEALTH WINNER!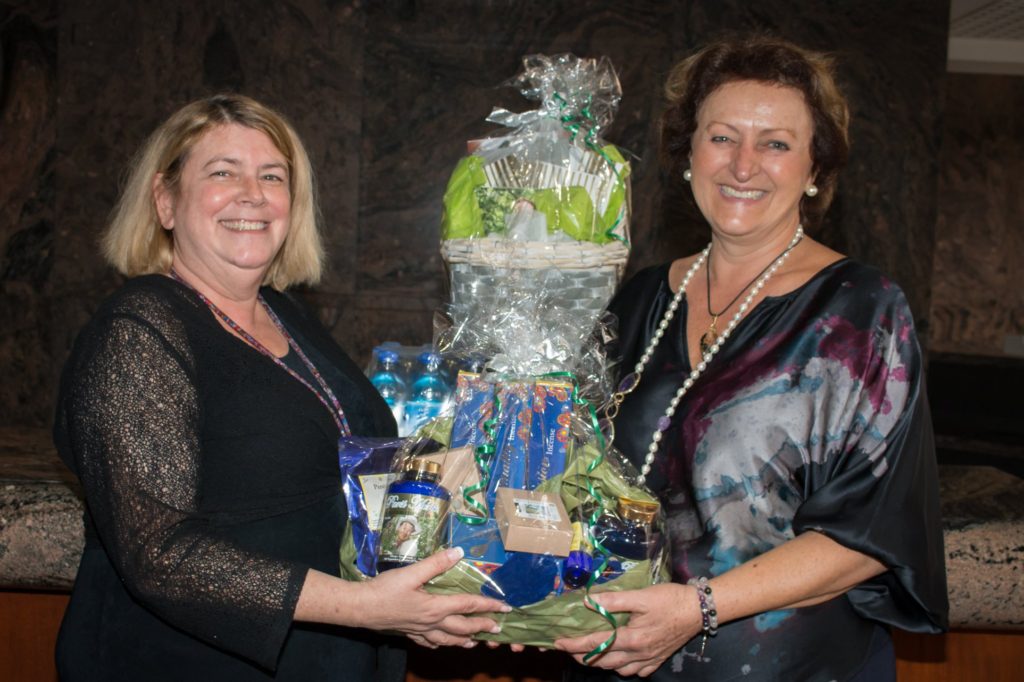 TRULY, a gift of health!
Congratulations to our "Gift of Health" basket winner Julie G. from West Palm Beach!
Thanks to the generosity of our JOPCO consortium, Nada Cory was able to present Julie with a huge basket full of protocols and products that will surely jump start her 2019 goal towards self care. Julie is a single parent of twins who are in their first year of college. "It is me time", says Julie, who is looking forward to reaching out to all of you to redeem the certificates. Plan to hear from her at the being of February!
Julie would like to meet everyone at our March meeting if possible, and welcomes us to follow her on this journey over the course of... well as long as it takes! We can take photos, hear testimonies, and post to our closed page. Please make sure you get permission to use photos and any info that is proprietary.
This will be a wonderful way to promote what JOPCO can do, as we empower people and communities to achieve wellness and wellbeing thorough expertise, education and guidance. And so it is!
Wishing you Love and Light,

Nada M Cory
Founder and President, Joseph P Cory Foundation, Inc.
To view our JOPCO powerpoint presentation Click Here