Riverbend Park Farmstead
Gardens of Hope for Health and Wellbeing
The Joseph P Cory Foundation, collaborated with their newest partner in wellness,Palm Beach County Parks and Recreation, Saturday, November 3rd, to showcase their "Gardens of Hope", in conjunction with Riverbend's annual Living History Day. Hundreds of kids and their families were on site, to get a "taste" of Pioneer Living at Florida's turn of the century. "How can you drink a pumpkin?" Well, Raw Chef Olga Keller, a JOPCO member of the Joseph P Cory Foundation, can show you how. Using Seminole pumpkins, authentically grown and harvested at the Riverbend Farmstead, Olga created a delicious and nutritious smoothie, urging attendees to trade out unhealthy snacks* for something yummy; complete with color, crunch, vitamins, minerals protein, fiber and more! Hands down, it was a culinary delight.    Educators presented "The "D" word" - Dig, Drop, Drench, Dazzle, and Dine®, an early learning interactive program, that teaches young children that healthy eating begins with knowing how to grow, cook and eat good food. Instructorsassistedyoungstersas they decorated a starter "seedling" pot, and handed out instructions and organic seeds tostart their own garden at home. Age appropriate gardening books were read to reinforce this important message, some with characters familiar to people young and old.

Gardening Guru Nada Cory and her team displayed samples, a rainbow of fresh herbs and vegetables that will be harvested in the Foundation's Gardens of Hope, when mature. These gardens, one of several initiatives created to fulfill their mission of empowering people and communities to achieve wellness and wellbeing, are being planted to strengthen the urban agriculture movement – garden to table – by growing local produce using ecological practices. For more information about the Joseph P Cory Foundation, Inc., please contact: info@josephpcoryfoundation.org or 561-501-3538.
If you would like to be a steward/volunteer of the Riverbend Garden of Hope Project, please click here to register with Palm Beach County Parks and Recreation.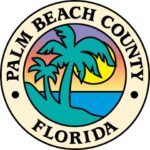 By doing so, you may receive community service hours and an opportunity to apply for the Joseph P Cory Foundation's "Pay It Forward" scholarship. This is a great opportunity for students, organizations that support the environment/agriculture, and if you love the outdoors! Note that our harvest gets donated back to the undeserved communities, so there are tasks for everyone!