Green House Blue Planet Community Garden at Emerging Minds Montessori Academy in Boca Raton, Florida
Every day our toddler and preschool classes water, weeds, and maintains the beautiful gardens donated to us by The Joseph P. Cory Foundation. The youngest children can be seen talking to the plants while the older students enjoy picking peppers, tomatoes, and eating them. The staff at EMMA take this opportunity to speak to the children about clean eating. Nutrition is an important part of the Montessori philosophy. We place taking good care of our bodies and communing with the earth as integral part of good health. All of our students love the outdoors and have opportunity to play outside every day.
We are so grateful to the Joseph P. Cory Foundation for making these opportunities possible. We look forward to our first cooking lesson and a long healthy relationship!
~ Miss Jeanne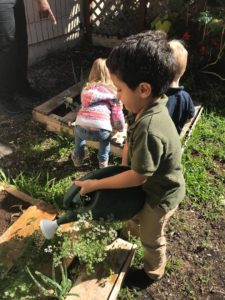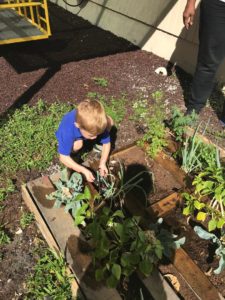 Our chidren tending to the garden!
Here is a testimonial from one of our families that helped plant;

"Manu and Juana Venegas really enjoy creating a garden with your expert volunteers. They are so sweet and easy to work with. Your idea of using recycled pallets it is a unique and a very creative idea. Thank you so much for your help and time at Emerging Minds Montessori Academy.
Sincerely,
Bou-Venegas family"